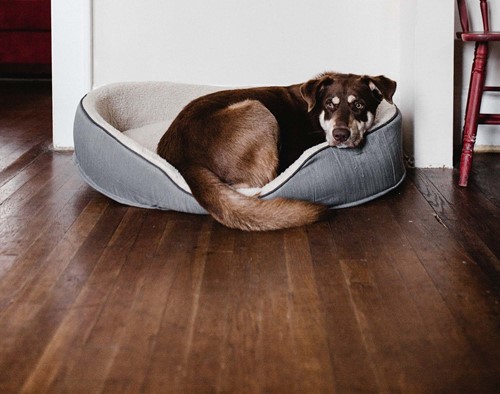 Photo by Andrew Neel on Unsplash

As homeowners, we can get fairly strategic about hiding the flaws in our home. We might move the sofa over a water stain on the hardwood or put a rug over a crack, tear or discoloration. While you'd never try to hide this stuff from potential homebuyers, it does keep it out of view when guests come over. And at least for a moment you too forget the damage is there.
But covering floor damage isn't always your best option. And knowing when to cover and when you resurface is vital to your home's health and happiness.
When Not to Cover
Don't cover if:
Damage is in a location with significant foot traffic. In these cases, covering could cause a tripping hazard.
Spot smells bad. If that spot is a pet mistake or smells mildewy, then you may no longer smell it. But your house guests do, and a rug will just soak up the smell. Refinishing can remove layers of deep-set smells from your floor.
The floor is sinking or uneven. This might suggest a rotting baseboard, which needs to be replaced. It's pretty easy to replace baseboards. But you'd need to pull up a section of your floor to do so, which may require professional help.
In these scenarios, it's time to refinish the floor. Here's how it's done.
How to Refinish a Hardwood Floor
First, check to make sure your floor is refinishable. A faux wood floor can be convincing. If it's laminate, then you'll need to replace it. But the good news is that you may only have to replace sections if they still make the product.
You can refinish:
Wood
Bamboo
Cork (but only a professional should attempt it)
Remove everything in the room, including items on the wall. Dust will get everywhere. It's easier to clean up if you have fewer surfaces to dust afterward.
Next, rent an electric floor sander. They come in coarse, medium and fine. You need all three to do the job, starting with coarse then moving back to fine. Always put on your safety goggles when using a hand or electric sander.
If you have any nicks to fill, use wood putty. Slather it over the area. Let it dry. Then sand with a hand sander using fine sandpaper.
Remove the dust you produced while sanding with a dust filtered shop vacuum. But you'll find that doesn't get all of it. A wax-impregnated cheese cloth can pick up what remains.
Now, apply at least two coats of your polyurethane, varnish or penetrating sealer. Let that final coat dry at least 24 hours before moving furniture back in.
For more helpful home revitalization tips, follow our blog.