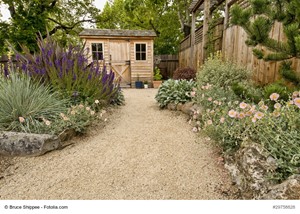 With few exceptions, a backyard shed is a resource that's going to provide you with an array of benefits for as long as you own your home.
If you're in the house-hunting mode, right now, a storage shed is a desirable feature that is usually worth including on your wish list. While many sheds are purely functional in nature, some can be used to dramatically enhance the landscaping and aesthetic appeal of your property.
In many cases, new homeowners don't realize how much they need a shed until after they've settled into a house that doesn't have one. When your tools, equipment, and supplies are easily accessible, your gardening, yardwork, and maintenance tasks will become much more convenient and less of a chore. Having an enclosed, protective structure to easily store your rakes, shovels, and hedge trimmers will also decrease the likelihood that they'll be left out in the yard and subjected to the elements of nature.
Although sheds are useful to any property owner who does their own mowing, raking, and snow removal, some homeowners find them indispensable.
Gardeners: Whether you cultivate vegetables, flowers, or other plants on your property, you'll need a convenient and dry place to store everything from tools and fencing material to seedlings, gardening soil, fertilizer, peat moss, clay pots, and statues. A well-organized shed can also help you keep track of when supplies are low and need to be replenished.
Swimming pool owners: When you consider the daily and weekly tasks that are involved in maintaining a swimming pool, it makes sense to have a dedicated space for safely storing and organizing equipment, pool chemicals, extra patio furniture, and even floatation devices. If you leave these items outside they tend to get dirty, damaged, or even stolen. Securing and storing pool chemicals away from children and pets is also a major safety consideration.
Most other property owners: As long as you have grass that needs to be mowed regularly, bushes that require trimming, and deciduous trees that shed their leaves in the fall, yard maintenance is an inescapable aspect of home ownership. For those who live in snow-prone areas of the country, keeping shovels, bags of rock salt, and possibly a snow blower on hand are often considered necessary elements of winter survival. While some people try to cram all those items into their garage, having a separate storage building on the premises can make life a lot more organized and less cluttered.
Whether you assemble your storage shed or have it custom-built by a carpenter, you'll probably find it to be one of the most useful features of your property. Assuming your available yard space and budget can accommodate a decent-quality storage shed, the probability is high that you'll be putting it to productive use for many years to come!