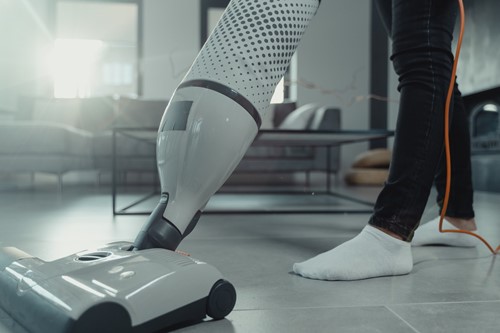 When considering flooring for your new home, look at each individual room. After all, carpet is probably not the best choice for your kitchen. Bathrooms, entryways, kitchens, and pantries that are high-traffic areas or that often get wet benefit from flooring that is at least water-resistant if not waterproof. You can choose from several types of flooring, including hardwood, vinyl, tile, laminate, carpet, cork and gym flooring. Each has benefits and disadvantages.
Laminate Flooring
If you love the look of wood, stone or tile, but don't want the upkeep, you might consider laminate flooring. It's also much more affordable and requires less maintenance. Laminate comes in tiles, squares or planks that interlock and are waterproof and scratch-resistant. You can get it in several grain styles, including cherry, oak, maple, pine and other woods if you want the wood look. If you want a stone look, you can choose limestone, marble, travertine and slate. This is a good choice for bathrooms and kitchens, or for the whole house if you have pets.
Hardwood
Hardwood floors last a long time, but are expensive to buy and install, and require a lot of upkeep. Still, those who have hardwood floors wouldn't trade them for anything. Solid hardwood floors last longer than engineered hardwood flooring, which is made from compressed wood, polymers and resin. Whether you choose solid or engineered hardwood, you have several choices, including white oak, walnut, red oak, hickory, cherry and maple. If you still love hardwood floors, but the maintenance factor is making you change your mind, ask your builder about hardwood flooring options with scratch-resistant and waterproof options.
Tile Flooring
Another flooring that is great for rooms with a lot of moisture or a risk of high spills is tile flooring. They require very little maintenance and last a long time. You can choose from ceramic, porcelain, natural stone and mosaic glass tiles. Ceramic tile is the softest of the tiles, so it's comfortable to walk on. Porcelain tile is more durable than ceramic tile and it's less porous, which means it's more water-resistant. However, it's more expensive than ceramic tile. The upper end of the scale features natural stone tiles such as marble, granite, slate and other types of materials. While they are very pretty, they are usually more expensive than ceramic and porcelain tile. Mosaic glass, cement, metal and other tiles are engineered with bits of marble, limestone, epoxy and other materials. All types of tile flooring chip easily if you drop something hard or heavy on them.
Vinyl Flooring
When you need durable and cost-effective, go for vinyl. Depending on the brand, it is made from PVC, plastic, acrylic and other polymers. When you choose the right vinyl, it looks luxurious and is very durable. You can buy it in sheets, planks or tiles. Vinyl flooring is waterproof and scratch-resistant. You can find it in many colors and even options that looks like stone or hardwood.. Check the finishes of each type you look at: vinyl comes in no-wax, enhanced urethane and urethane finishes. If you are putting vinyl in high-traffic areas, choose one with a wear layer that is thicker.
Other Types of Flooring
You can choose other types of flooring, including carpet, bamboo, cork and gym flooring. Most of these are not suitable for areas with a lot of moisture. Carpeting provides extra warmth and is very comfortable to walk on. Bamboo is actually classified as a hardwood flooring, and it is very durable, so is scuff-resistant. Cork is very comfortable to walk on, and is made from renewable materials. It is also noise-resistant. Gym flooring is made from rubber or foam and holds up well to high traffic. It is also water-resistant and absorbs shock.
You will need to make your choices on several factors, including high-traffic areas, whether you have kids and / or pets, and how much you want to spend on each type of flooring. You can put one type of flooring in rooms that see moisture or high foot traffic, and another more comfortable flooring, such as carpet, in areas that do not see high traffic.